Online Resources
Activity Ideas
Create anything! Whether you are using paint, markers, crayons, play doh, cardboard, or found objects from your house, anything can be used to create!
Create a nice message for your neighbors with sidewalk chalk.
Draw portraits of each of your family members.
Make homemade clay or play doh.
Make slime.
Look up drawing tutorials or step-by-step drawing activities.
Sharing Art with Me!
PARENTS – Our school is offering a way for students to submit their artwork to their Artsonia portfolio from home.
Your child can use iPads or similar devices (or even a browser) to photograph their own artwork, make edits and enter artist statements – all on their own! The artwork will be reviewed by the art teacher prior to being published.
Download the Artsonia 6.0 app in the Apple or Android app store, then scan the
Access Code below (or manually type in the code). You can also go to www.artsonia.com/class  on a browser if you don't have a compatible device.
Access Code: PRJC-SSJC
You can view a short tutorial video by going to www.artsonia.com/videos/student-app
If you have any questions, please contact Artsonia at 800-869-9974 or info@artsonia.com.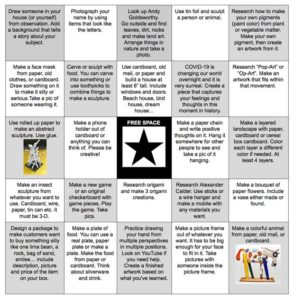 Click Here to View Printable Document: Art (EK-4th Grade) – Resources